This is a blog from Jenn Castro, who appeared at Village House of Books on November 16.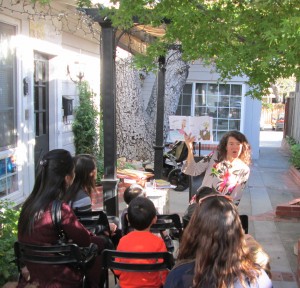 The reading hasn't started. Curious about the audience, it spans from ages two to 65 or 70, I wonder how to reach them all. "Do you like to write?" I ask a seven-year old girl? "Here's what it's like in my two-boy club home," I confide with another mom, comparing notes about her two energetic girls and my two sons.
Los Gatos, California's Village House of Books, a cozy house-like bookshop of nook-sized rooms filled from floor to ceiling with books of all shapes and sizes, perfect for browsing and buying, invited me last Saturday, November 16, to read MOM*ME.
"I like telling stories, but I don't like (and then the seven-year old mimes the motion of holding pencil and writing words on a pretend page)." I know what she means, cause my kids used to feel reticent about the mechanics of putting pen to paper.
"How long did it take to write the book?" another mom asks. "The ideas came in bits over time," I tell her, wanting to convey an accessible project that can be completed, "…It took four years, but that's cause I'm a mom." The audience giggles. "Kids could create a book much faster," I reassure, "All those moments I used to fritter away, are committed now to writing" Heads nod in understanding. "How long to publish it?" another audience member asks. "About nine months," I explain. And then the reading, "My mommy is not a tissue…" I begin.
Visit Village House of Books. You won't be disappointed. See you in April when I return for a second reading just before Mother's Day. As for the seven year old, I got to sign her book, "Happy reading — and writing," was my message!